A woman has been removed from the Cannes Film Festival red carpet at the world premiere of George Miller's Three thousand years of longing†
The premiere marks the Australian director's return seven years later Mad Max: Fury Road but was briefly overshadowed by the gatecrasher.
The unidentified woman ripped off her clothes during the film's red carpet procession to reveal the message "Stop raping us" written on her torso alongside the blue and yellow colors of the Ukrainian flag. Red was also painted on her legs and groin.
READ MORE: Nina Dobrev and Shaun White Make Red Carpet Debut at Her Ex's Movie Premiere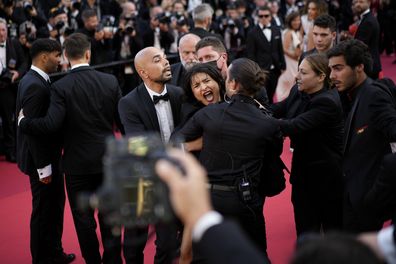 As she yelled "Don't rape us!" security quickly surrounded her, covered the woman with a coat and took her off the red carpet.
The woman also had the word "scum" written on her lower back.
READ MORE: Rebel Wilson shares 'terrible' #MeToo moment with co-star
Representatives of the festival did not immediately comment.
The incident took place on the red carpet outside the Palais theater in Cannes for Three thousand years of longingMiller's first directorial effort since dazzling the film industry with Mad Max: Fury Road, back in 2015.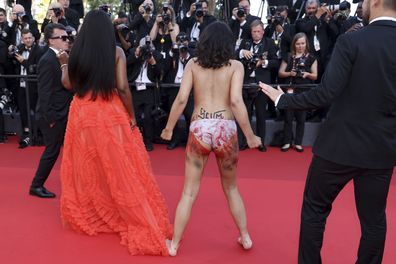 In the film, Tilda Swinton plays a scholar who meets a magical Djinn (Idris Elba) in a hotel room in Istanbul and learns about his fantastic past while pondering the three wishes she can make in his presence.
Miller, Swinton and Elba appeared on the Cannes red carpet after the woman had already been removed.
To enter the Palais Theater of Cannes, multiple security checks are required.
At stations where visitors are required to walk through a metal detector, guards stand outside the carpet.
Once a visitor gets through that checkpoint, they meet more guards at the beginning of the carpet who signal them when to enter the theater. The red carpet itself is lined with security.
– Reported with Variety and Associated Press
For a daily dose of 9Honey, subscribe to our newsletter here†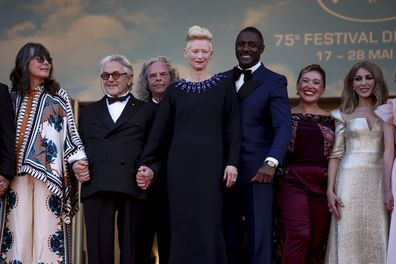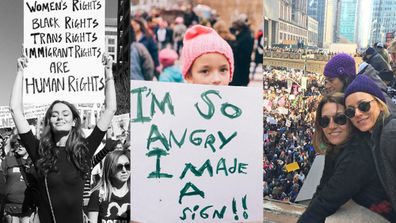 Women's March: Naomi Watts, Lisa Wilkinson and more Australian celebrities support the protests