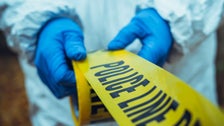 The man, who identified himself only by his first name James, told WPBF he was looking for a chicken that had left his yard in West Palm Beach when he encountered a shocking sight next door.
"I just found something weird and I step on it and when I saw something weird like a skull it was scary and I said I don't know what this is," he said.
Police confirmed they were "human skeletal remains" buried in a shallow grave.
"It's weird, you know. I never expected that thing in the back of my house," James said.
West Palm Beach Police said it is in the process of determining identifying marks on the remains, including gender.