"I wasn't necessarily biased, I was opportunistic," says French, excited that Luca's work was selected. "I wasn't hugely surprised because I thought they were successful pieces of art, but I was quite happy that they were so open and eager to commission an 11-year-old."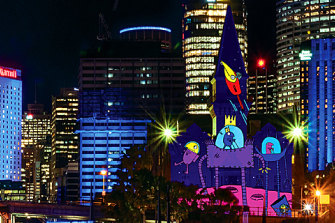 From the first endorsement, French mapped out what he called the start-to-finish story. "Luca provided the artwork, and then we took a lot of vignettes and scenarios, strung them together and put them on construction cards. Some scenes, like the rocket and ending scene, were drawn on his iPad directly within the template for the outline of the painting. building.
"We traced the characters so we had editable shapes and then had our animation team at Spinifex Group bring them to life, including Tony Papesh, an accomplished character animator."
Tourism Minister Stuart Ayres expressed the hope that visitors of all ages will "enjoy and love Luca's work as much as I do".
"The Vivid Sydney program has a wide variety of installations, experiences and performances that will excite young adults and children alike," he said.
Loading
Ever since he can hold a pencil, Luca has been creating playful creatures by creating animal hybrids and arranging shapes to take on new forms.
"I don't really think about it," says the sixth-grade student. "I just start drawing and think, 'Oh, I have to do that, I have to do this'. The Ningets are normal creatures who sometimes like to explore space and investigate different plants. They ride Ringets. They are essentially camels because you use them to explore more of the desert, somewhere where there are no roads. There are pingets, pongets, rongets, dongets and a lot of other things.
"The Ningets are basically inventing gadgets and doing the things that people just talk about and don't get on with, like improving the environment."
Luca grew up visiting galleries and artist studios with his Australian grandparents, who are both artists. His grandfather is Croatian-born sculptor Ante Dabro of Canberra who created the Grade II listed bronze Royal Australian Navy Memorial. Dabro's bronze of sea explorer Jean-Francois de Galaup, comte de La Perouse lives in Paris.
a fan of Adventure Time and The Simpsons there are also hints of Luca's love for Japanese characters from Studio Ghibli. "I see an amalgamation of influences in these characters," says his father. "But they are also all very original."
The full Vivid Festival program can be found here.
A cultural guide to going out and loving your city. Sign up here for our Culture Fix newsletter†