Ellie Carpenter lingers along a beach somewhere in Dubai.
She is casually dressed in a white T-shirt that reads "Peace Through Practice" and comfortable green shorts. Her iconic white-blonde hair hangs loosely behind her shoulders, a pink hair tie around her wrist.
She waves gently as she walks and answers fun, light-hearted questions about herself for a quick interview: her favorite moment of the day, three things she can't live without, what makes her smile.
Asked to describe herself in one word, she says "bubbles" before giggling at the next question.
Loading
This sunny, carefree young woman stands in stark contrast to the Ellie Carpenter football fans often see on the pitch: a right-back who is uncompromising, fearless and daring beyond her age.
Now, Carpenter is on the cusp of achieving something no other Australian footballer has ever done: winning two Champions League finals when her French club, Olympique Lyonnais, take on reigning champions Barcelona on Sunday morning.
When you look at her life from the outside, it's hard to believe that she just turned 22.
Inside, Carpenter can hardly believe it either.
Trying to figure out how to play football at the highest possible level is one thing, trying to figure out who you are and how you fit into the world is quite another.
"I had to grow up very quickly," Carpenter told ABC from her home in Lyon.
"I didn't have a normal teenage life. I dropped out of school right away [at 17] and on a national team with girls so much older than me, so I kind of missed that stage in my life: being a kid, being a teenager, doing that sort of thing.
"It's been hard. I've been away from home since I was 15. And now that I think about it, I just turned 22 and it feels like I've been doing this for so long. Sometimes I forget how young I am.
"It's funny because a lot of people around me at the club here still can't believe my age. So they think I must be an adult, which is nice."
It certainly has. For a player so young, Carpenter has already led a robust football life.
Growing up on a farm in the small town of Cowra in central New South Wales, Carpenter played with and against boys until she was 12 before her family moved to Sydney to improve her chances.
Three years later, while still a student at Westfield Sports High School, she made her professional debut with Western Sydney Wanderers in the 2015-16 W-League season, starting every game.
Even then, you could see the raw materials of what Carpenter is now forged and honed: the natural athleticism, the one-on-one physicality, the desire to gallop forward and help attack, the relentless dedication in defense. She was the archetypal modern fullback before she knew it.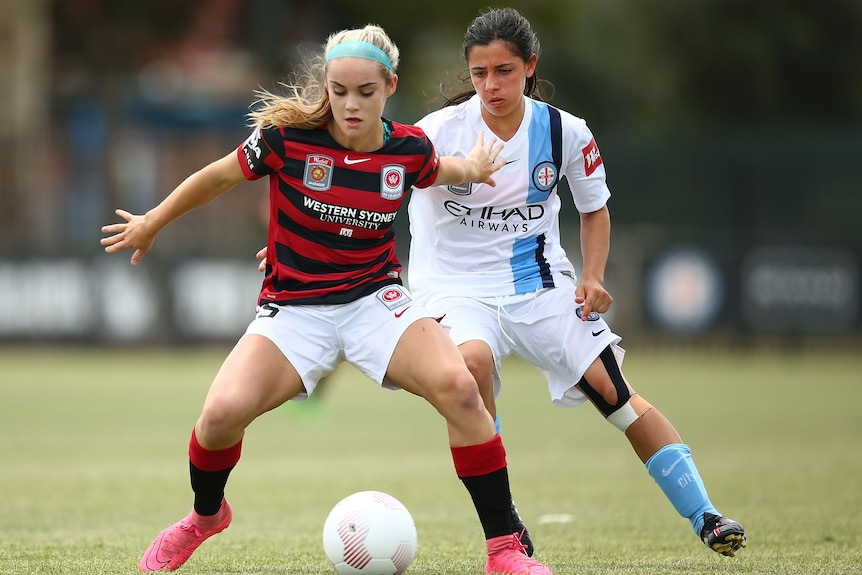 It was the spark that caught her eye by then-Matildas coach Alen Stajcic, who handed her a senior national team debut against Vietnam in 2016 and became the first Australian footballer born in the 2000s to win green and gold.
Four months later, at age 16, she became the youngest Australian participant in the Rio Olympics, as well as the youngest ever female footballer to compete in the Games in its history.
She also followed these age-based milestones at the club level, becoming the youngest player to appear in America's National Women's Soccer League (NWSL) when she debuted with Portland Thorns, aged 18, in 2018, as well as their youngest ever goal scorer. scorer when she scored for them 10 days later.
A standout season back in Australia with Melbourne City resulted in one of the biggest strides for an Australian female footballer when she was signed in 2020 by seven-time Champions League winner Lyon.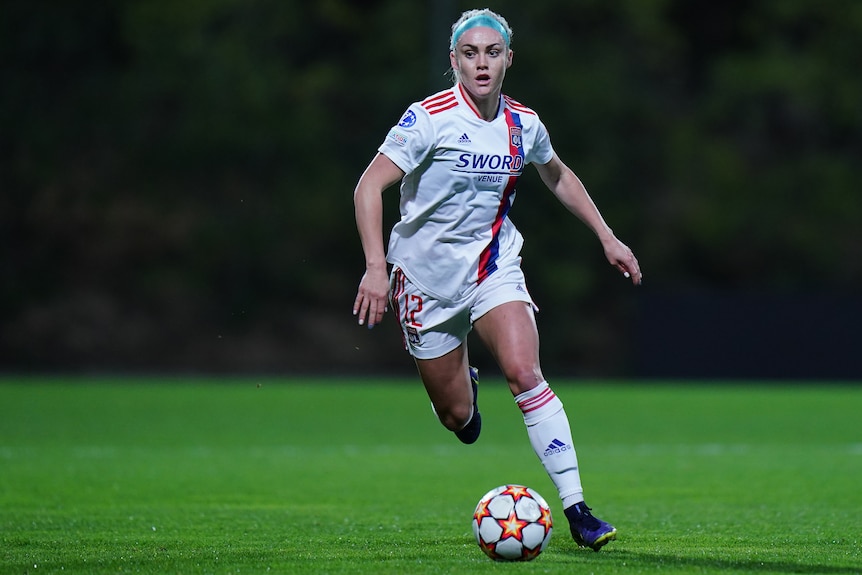 Carpenter's life has quickly come to her. She hasn't experienced the ordinary things most of us do when we're trying to figure out who we are or what we want our lives to look like.
She admits that – even though she had to skip that awkward, stumbling teenage chapter – she still felt a childish dread when the big European move beckoned.
"The most scared I've been was this move to Lyon," she said.
"Obviously it's such a big club. You don't know what to expect. You don't know what the team will be like: the language, the culture."
"But the transition to this team and to France is the easiest transition I've ever had to make. It's the nicest team I've been part of, the most welcoming team I've been in. I was so surprised.
"After a week or so I was able to be myself. And I really appreciated that… it's an environment where you thrive and bring out the best in you, because you feel comfortable on and off the pitch."
It helps that she's not the odd foreigner: several of her teammates — like Catarina Macario, Christiane Endler, Tokyo gold medalist Kadeisha Buchanan and Ballon D'Or winner Ada Hegerberg — are also from elsewhere in the world.
They all share a group chat and regularly meet outside of football to explore the city famous for its food and its history: they have become her second family.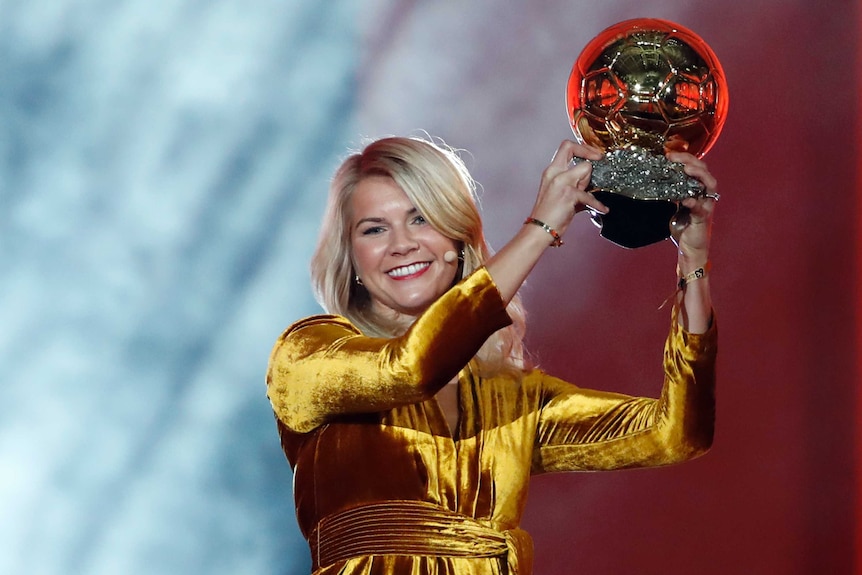 But what binds the team together is undoubtedly the French veterans, anchored by captain Wendie Renard, midfielder Amandine Henry, winger Amel Majri and striker Eugenie Le Sommer.
They formed the foundation of this all-consuming sorority – the most successful in women's football – and still set the tone and standards for newcomers like Carpenter, who has since become a starter on the side.
"First of all, when I came on the team, I was afraid of them," Carpenter laughs. "But honestly, they're so nice. They help you with everything.
"I have learned a lot from them, with their experiences. Some of them have won eight Champions Leagues… that's unbelievable.
"Everyone here is so professional, one of the most professional I've ever seen.
"When you come from previous clubs and see what everyone is doing here it's like, 'Oh, okay, this is why you guys win everything. This is why you're so good.'
"It's the next level here, but it's nice to be exposed to that, for me to see that so young so I can follow in their footsteps."
Loading
It is this environment that has more than ever prepared Carpenter for the biggest game of her career: Sunday morning's Champions League final against holders Barcelona, ​​who continue to break records after winning every game of their most recent competition. , while also repeatedly attracting more than 90,000 fans to their home games.
However, the intensity and pressures of Carpenter's daily life have shaped her into the fierce, mature competitor she always knew she could be, to the point where she's barely bothered by the opportunity now.
Loading
"It's just a normal game to me," she shrugs nonchalantly. "I haven't really thought about it. I don't really put it above another game or think I'm going to do something else.
"Obviously it's a bigger stage and a bigger atmosphere, but these are the games we live for and want to play for.
"I like the pressure. It makes me perform better. It makes you really get the best out of yourself, and that's one thing I knew when I got here was going to be the hardest: performing as you hear and not crumble.
"I handled that well – now it's just kind of normal.
"It will be a great game. Hopefully we can win."
The bubbly young footballer from Cowra grew up in the football spotlight. Now Ellie Carpenter basks in it.
Posted † updated