Next Hotel manager David Ness said while it wasn't ideal to open in between the lockdowns, it allowed the boutique hotel to steadily build a customer base.
He said the hotel had strong demand from local holidaymakers, but business customers were returning more slowly.
"Consumer has shrunk and supply has grown significantly, so there is an oversupply problem at the moment," he said. "During COVID, five or six new hotels have opened. But luckily for us we were the only ones at the 'Paris' end of Collins Street. It's pretty flooded at the Southern Cross end and the Docklands."
Girish Talreja, general manager of Marriott Docklands, which opened in November, said the guests at the $250 million hotel were mainly vacationers, but he hoped business and group travel would return.
"Especially after COVID, people are going to look at new construction," says Talreja. "I think the way forward is the new hotels, and I'm really lucky to have one."
The growing number of hotels is battling for some of a depleted market, with the latest figures from Tourism Research Australia showing that domestic overnight stays in Victoria fell 47 percent from March 2020 to February 2022.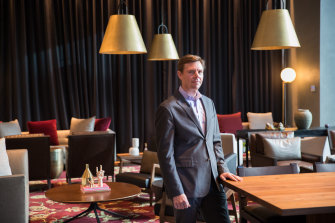 The number of passengers at Melbourne Airport has slowly increased, from 1.2 million in January and 1.1 million in February to 1.7 million in March.
However, hotel rooms have yet to be fully booked, with data from hospitality analytics firm STR recording Melbourne hotel occupancy for the year to April 2022 at 51.5 percent. Before the pandemic in April 2019, this was 77 percent.
Adam Schwab, founder of travel company Luxury Escapes, said strong occupancy rates and good returns for investors had fueled hotel construction in Melbourne.
"The reason why so many hotels were built was because the returns for hotels were very good for 15 years. From GFC [Global Financial Crisis] up to pre-COVID hotel revenues were incredible," he said.
Schwab said increasing RevPAR (yield per available room) and rising occupancy rates had created a "perfect storm," boosting hotel values ​​and attracting more investors.
"Both Melbourne and Sydney were quite understaffed for hotels, especially luxury hotels. Hardly a luxury hotel had been built in either city for quite some time, probably for a decade," he said.
Schwab is confident that the travel industry will recover and that the new hotels in Melbourne will fill up steadily.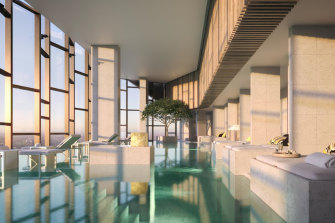 Loading
"I think supply creates demand to some extent," he said. "Once you build the Ritz-Carlton, or there's a Four Seasons coming up in a few years, that's going to bring in customers itself."
James Wilkinson, founder of hotel trade publications Traveler and Hotel Managementsaid until demand picks up, Melbourne's oversupply of hotels would mean good deals for locals.
"Beyond major events, there will be great deals for both business and leisure travelers in the short and medium term," he said. "The oversupply was expected pre-pandemic, and it was great to see the confidence of so many owners not to delay the opening and opening of hotels."
Do you need good news? The Greater Good newsletter delivers stories to your inbox to brighten your look. Register here†