Anthony Albanese has backed away from a promise to make rapid antigen testing free, saying times have changed.
Albanian called on government to help distribute free COVID tests over the Christmas period, when COVID-19 swept through Sydney and Melbourne.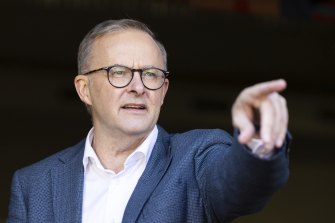 "Of course times have changed. Times have changed and what we would do is consider the health advice of the time," he said in Tasmania on Saturday.
Loading
"At the time, there was an urgent need to get RATs out to the people. People had a hard time and one of the things that also happened during that time is the government said, 'Go to your local pharmacy and you can get a free RAT test if you have a concession card.
"But when people went to their local pharmacies, they were told, 'No, those aren't the free ones. You have to pay.'
"The government was too slow to order vaccines, and it was too slow to organize rapid antigen testing."
The decision comes just as opposition spokesman for the NDIS, Bill Shorten, announced on social media that he had tested positive for COVID-19 on Saturday.
"Never a good timing for anyone, so will be a week in ISO and then off for the last week of the campaign," he said.