Newly released surveillance footage shows Vicky White at the hotel where she stayed the night before helping Casey White escape from prison as authorities continue to search for the couple.
The video, released Saturday by the Lauderdale County Sheriff's Office, showed Vicky White at a Quality Inn in Florence, Alabama, near the Lauderdale County Jail, where she worked as a corrections officer. 29, according to a report from Alabama Live.
She went to work after spending the night at the hotel. Three hours later, she reportedly left with White, telling her colleagues she would be taking him to a mental health checkup. Instead, she helped him escape from prison, and two have not been seen since in a case that has captivated people in the United States.
Lauderdale County Sheriff Rick Singleton couldn't say exactly why she had stayed at the hotel rather than her home, but speculated she may have done this to avoid seeing her family, Alabama Live reported. She sold her house about a month ago and has lived with her mother ever since.
In the video, she can be seen at the front desk and appears to be looking for someone to help her check out as she walks around. Many viewers on social media said she looked nervous in the footage.
The orange or copper-colored 2007 Ford Edge the couple believed to be traveling in was also found in a parking lot near the hotel on the night of April 28. parking spot.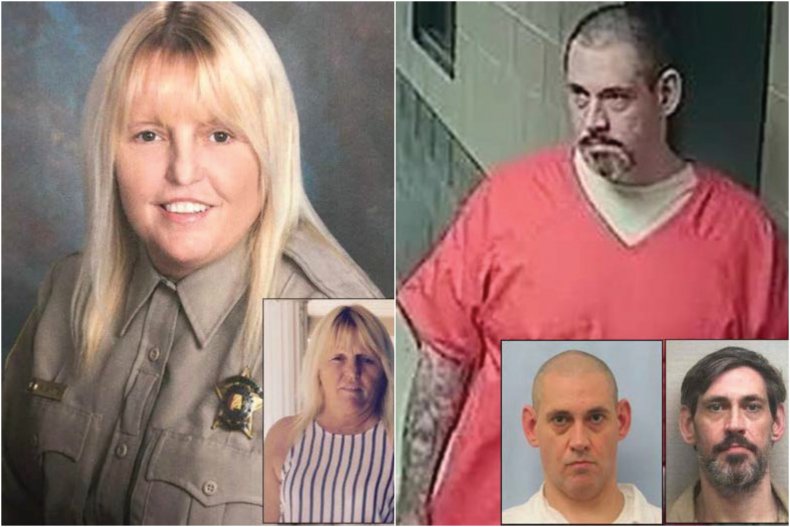 Their SUV was later found about two hours from the jail, near Nashville.
The US Marshals Service is offering a $10,000 reward for Casey White's arrest and a $5,000 reward for Vicky White's arrest (the two are unrelated). Authorities have said they will both be charged once they are found.
Casey White was held in prison ahead of an upcoming trial date on the murder charge. He is accused of fatally stabbing 58-year-old Connie Ridgeway in September 2020 and has confessed to the murder.
Lauderdale County District Attorney Chris Connolly said that once they are found, Casey White will be charged with first-degree escape (a felony) and Vicky White could be charged as an accomplice and with a separate charge for aiding his escape.